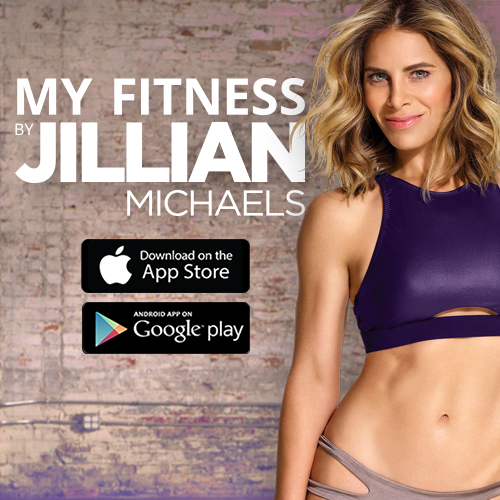 Jillian Michaels App Review
If you are like so many of us, you're glued to your mobile phone AND you wish you had your own fitness trainer right in your pocket. Well we have tried out the Jillian Michael workout app and we are absolutely thrilled with it and we'll tell you why.
But first of all…who is Jillian Michaels (in case you don't know).
Here's a quick blurb from Jillian Michaels website about who she is, but to us she is a kickass trainer who knows her stuff, doesn't fall for BS and was a trainer on the TV show The Biggest Loser.
Jillian Michaels is the foremost fitness expert in the world and a renowned life coach.

Committed to helping people to be the best versions of themselves and to live their happiest and healthiest lives, Michaels has dominated the health and wellness space with hit televisions shows, extensively successful fitness DVDs, the foremost exercise streaming platform fitfusion.com, 8 New York Times best-selling books, an award-winning podcast, live speaking engagements, her App, My Fitness, that provides personal training and nutrition plans, popular social media channels and her personal website.Through her platforms, she has built an international community of followers 100 million + strong.
The Jillian Michaels meal plan is one we'll also be discussing in this Jillian Michaels app review as it's a component of her app! Looks like lots of five star reviews.
SO back to the Jillian Michael app review:
The Pros of the Jillian Michaels app
Personalized fitness and Jillian Michaels workout plan – You truly can choose what type of exercise you want each day and have access to the Jillian Michaels workout plan. Swap in and out you desired exercise and customize your complete workout. If you want to try the famous Jillian Michaels ab workout, it's there!
All videos are in HD, so no squinting to see her technique
Enthusiasm – we haven't seen a trainer that has Jillian Michael's level of enthusiasm. In fact, you forget she's even on your phone and not there in person.
Over 800 Unique Exercises – we like this one because sometimes we are too timid to ask how to work a certain body part or get a bit lazy and just master one workout. With the Jillian Michaels app, you won't have that problem as there is over 800 exercises and I'm sure she's always adding more.
You're the DJ – choose whatever music you're in the mood for and play it on the app
Customizable – if you're an absolute begginer or an expert, the Jillian Michaels workout app is really for anyone
Probably our favorite reason – Everything is on your phone, which means if you're travelling or don't have access to a TV or one of the many Jillian Michaels DVDs, you really have no excuses.
Great holiday/Christmas gift for a loved one who wants to lose weight, eat healthier or is a huge Jillian Michaels fan (Start your 7-Day Free Trial with the Jillian Michaels personalized fitness app. Available on iOS and Android.)
Another selling point to the Jillian Michaels app is her Fitness for Beginners program found on the app. It's considered Jillian's way of getting you into fitness and is part of the Jillian Michaels workout plan. Jillian Michaels is an expert life coach and one that works well with beginners. Here's what she says about her Fitness for Beginners program:
Fitness for Beginners: Jillian's 30 day jump start program.

For people just starting their fitness journey. If you have never worked out, feel intimidated by exercise, or have just let yourself fall out of shape, Fitness for Beginners is the ideal program to get you on the path to your best self. This program consist of 10 unique 20 minute workouts strategically sequenced to get you back into great health safely and effectively.
Jillian Michaels Meal Plan
Having access to the Jillian Michaels 30 day shred meal plan and really ANY Jillian Michaels meal plan, is HUGE. As you can see in the image below, the Jillian Michaels meal plan include beautiful photos of each meal and an easy to read ingredient and direction list. Also, on many of the meal plans, there's the ability to substitute ingredients. It lists the calorie count and serving size.
Look how delicious the Recovery Smoothie looks:
Jillian Michaels Ripped in 30 day shred meal plan
Since this comes in your app, it's so easy when you're grocery shopping. Let's say you want to look up the Jillian Micheals 30 days shred meal plan grocery list, simply just pull out your phone, open the Jillian Michaels app and see a complete list of what you need for each recipe in the Jillian Michaels 30 day shred meal plan grocery list category. Grocery shopping made easy! Jillian Michaels diet made easy and healthy!
With Jillian Michaels meal plans, there really is a meal plan for everyone including:
Omnivore, Pescatarian, Vegan, Vegetarian & Paleo/Gluten Free options available.
The Jillian Michaels App also has Progress Tracking
There's no point committing yourself to eating well, exercising and following the Jillian Michaels workout app if you can't track your progress so Jillian Michaels has incorporated this into her app as well.

In this section of the app there's a personal dashboard that keeps track of your weight, types of workouts, calories burned and calories consumed. If you use an iPhone, the Jillian Michaels app also syncs with Apple Health and most Bluetooth heart monitors.
Jillian Michaels DVDs
Now the Jillian Michaels app has a selection of her best Jillian Michaels DVD series right in the app, so really this app has everything you need to not only be motivated but also informed on how to workout properly.
Results speak more than words…look at one transformation from Ivoree who follows Jillian Michaels workout plans.
Ivoree lost over 120 pounds!
So we talked a lot about the positives of the Jillian Michaels app? Well are there any negatives? A couple, but I wouldn't call them negatives, just the reality of an online fitness app:
You need to live somewhere where Wifi is easily accessible as it's an online app
There is a cost involved and you can pay monthly or annually. Typically annually is cheaper but you have to decide your own budget. GREAT INTRO OFFER BELOW:
As a reader of Go Away Cellulite, we're able to offer you a FREE 7 Day trial of the Jillian Michaels app, just click the link below:
Start your 7-Day Free Trial with the Jillian Michaels personalized fitness app. Available on iOS and Android.

If you're a Jillian Michaels fan are are interested in more than her Jillian Michaels fitness app, here are some of the best Jillian Michaels DVDs, books and clothing.
This is the DVD and Jillian Michaels workout that everyone talks about because it's that effective and at a price you can't beat.
Jillian Michaels is TV's toughest trainer, but she is committed to getting big results. As your own personal trainer, Jillian will guide you through her exclusive 3-2-1 Interval System that combines strength, cardio and abs to blast through calories for a dramatic 30 DAY SHRED. The program includes three complete 20-minute workouts which progress by level of intensity. Start with Level 1 and advance through Level 3 – in no time you'll achieve a lean, shredded body.
Actual Customer Review

I've lost 70 pounds with this dvd. Thank you so much Jillian.
Purchase here: Jillian Michaels – 30 Day Shred